Before selecting an outsourced manufacturing plant you really must first visit one of our facilities. They are modern, clean and tidy and managed by professionals who work to the latest health and safety environmental regulations.
| | | |
| --- | --- | --- |
| | When you outsource to 'Our Granule Factory' :- | |
| | Your production areas are exclusive for your work, with no cross-contamination from other production areas. | |
| | Your product is 100% safe and secure, with your own entrance, your exclusive process room, warehouse - even your own fork lift truck. | |
Whilst these basic requirements may appear obvious it is surprising how often outsourcing organizations ignore them in order to cut corners.
Plan of Units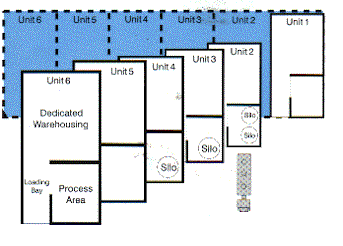 How convenient are our sites for you?
We are based at Crewe in the North of England and Helmond on the borders of Germany and The Netherlands. These locations were selected to be within easy reach by road of your Western European markets.
We have invested £7m (€11m) to provide you with a choice of 16 custom built, individual processing plants for single company use. They can be further tailored to your specific needs.
| | | | | | |
| --- | --- | --- | --- | --- | --- |
| | | | | | |
| | | | | | |
| | | | | | |
| | | | | | |